Take advantage of the unbeatable location of our hotel in the city centre to discover Mont de Marsan and its history dating back to the 12th century. The city with three rivers invites you to stroll around.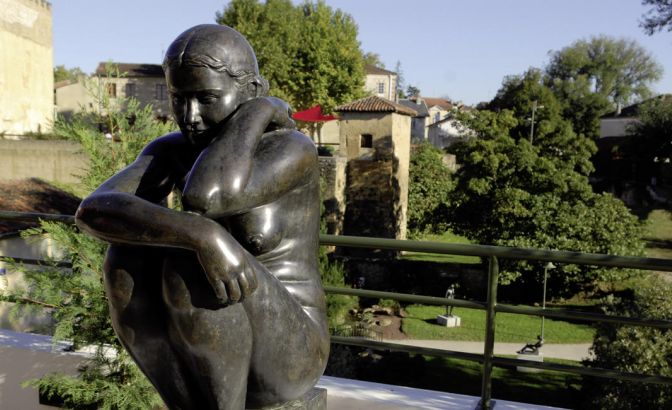 Art and nature in the heart of the city
Mont de Marsan is also known as the city of sculptures
From the bridge of the Midou esplanade, you can see the washhouse called "cale de l'abreuvoir" dating from 1868. Situated at the foot of the confluence of the three rivers, it is one of the best viewpoints to admire the Midou and the Douze forming the Midouze.
Mont de Marsan is also known as the city of sculptures. In addition to the Despiau Wlérick Museum (4 min walk from the hotel) which houses nearly 2000 sculptures by Mont Marsan artists Charles Despiau and Robert Wlérick, the town exhibits sculptures from all over the world in its streets and parks throughout the year. Don't miss the latest arrival: "La Plongeuse", a woman throwing herself into the Midouze.
Other sites and monuments to visit
The Madeleine church, the Raymond Farbos Contemporary Art Centre, which welcomes well-known artists, the Jean Rameau Park, which has remarkable plants and collections (notably all varieties of beech trees, but also sculptures), the Nahuques Animal Park covering 4 hectares in the shade of large oak trees, the Saint-Vincent Garden, the Promenade du 21 Août 1944, a veritable green lung right in the centre of town... not forgetting the Plumaçon bullring, a cultural and bullfighting venue that comes alive during the Madeleine festival in July.
For more information, the Mont de Marsan Tourist Office is just a 2-minute walk from the Hotel Richelieu.