Hotel Richelieu
Mont de Marsan
Welcome to the Hotel Richelieu
Mont de Marsan
3 star hotel restaurant in the Landes
A warm climate and a radiant spirit for the Hôtel Richelieu in the heart of the historic centre of Mont-de-Marsan, "the city with three rivers"! Whether for leisure or business, enjoy the comfort and harmony of the place. Our hotel restaurant in the city centre is ideal for a pleasant walk. Nearby, the superb Jean Rameau Park where nature is omnipresent, the Madeleine church, the Despiau Wlérick museum (built on a former dungeon and dedicated to sculpture), the Saint-Roch square which hosts one of the most beautiful markets in France, the Plumaçon arenas (labelled "20th century heritage")...
Mont-de-Marsan, the capital of the Landes region between the ocean and the forest, and its surroundings are full of activities to do with your partner, family or friends. Our hotel in the heart of the city is the ideal starting point to discover the beauty of the Landes in complete tranquillity.
Ideal location in Mont de Marsan
Put down your bags for a charming stopover at the Hotel Richelieu in the centre of Mont de Marsan. From the spacious and bright entrance, the staircase with its wrought iron banisters invites you to discover your room (a lift is also available). The 20 contemporary rooms, with warm tones of wood and leather, are equipped with all the facilities you need.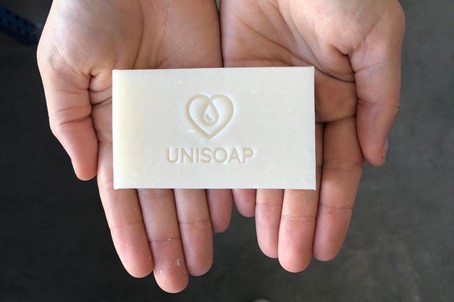 The Hotel Richelieu is a partner of UNISOAP for social, solidarity and environmental action.
UNISOAP is the recycling of hotel soaps by young disabled workers in compliance with all sanitary standards.
Thousands of soaps will not be thrown away but will be cleaned, crushed and remelted to form 500 gram bars that will be distributed free of charge to associations that help the most vulnerable.
And we are proud to be part of it.